Representational image PTI
The good news for education in this year's Union Budget is the increased allocation of Rs 1,12,898.97 crore. This is the highest amount ever apportioned to this sector and represents an increase of more than 8 per cent over last year's original budget and 13 per cent over the revised and reduced figure. From the total of close to Rs 1.13 lakh crore, Rs 68,804.85 crore has been allotted for school education and Rs 44,094.62 crore for higher education.
Union Education Minister Dharmendra Pradhan lauded the Budget for its highest-ever grant to education: "By giving a boost to education, skill development, entrepreneurship, research and development, digital infrastructure, green growth and job creation, the Budget draws a meticulous blueprint for India at 100 and lays a solid foundation for transforming India into a technology-driven knowledge-based economy."
But the actual money spent by the government on education is much higher as the graphic below, which illustrates the money spent by major Indian states, shows.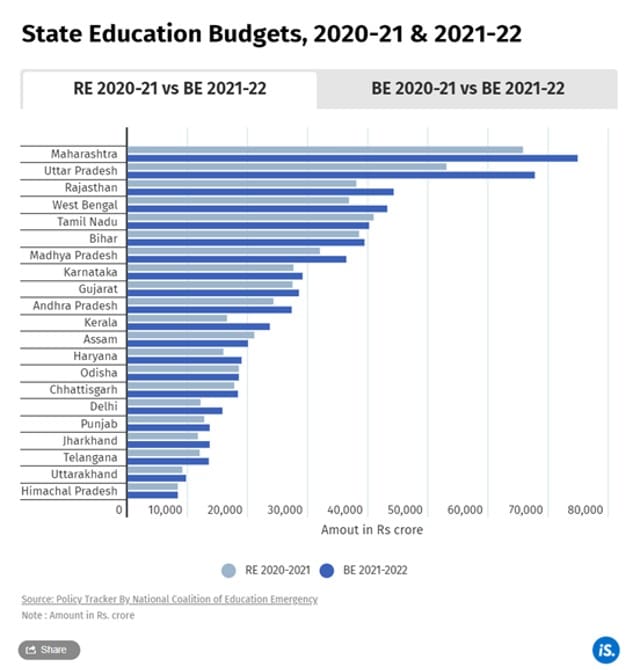 The graphic above, there are two tables, "BE" [Budget Estimates] vs "RE" [Revised Estimates] and vice-versa; if we can't toggle them, please keep only one.
In fact, all of India's 28 states and nine Union Territories have an education budget, with yearly spending. In addition, few know that almost every ministry of the Central government has its own education budget which is in addition to that of the Ministry of Education.
In fact, it is extremely difficult, if not virtually impossible, to know exactly how much our government actually spends on education in the current year. That is because the expenditure is divided and spread across not only the Centre and the states but across so many ministries and departments. Compilations, which are very laborious, are therefore only available a few years later.
In this 75th year of our Independence, when we celebrate Azadi ka Amritmahotsav or the ambrosial time of our freedom, we cannot help wondering, as concerned citizens and taxpayers, why it is so hard to know, let alone understand, how our money is being spent on education. We cannot but wonder if this obfuscation is deliberate rather than unintentional, designed to obstruct much closer scrutiny of colossal costs and incommensurate outcomes in this most vital and significant sector of our economy and society.
Before I proceed, I must admit that it would have been impossible even for me to write this analysis despite tracking this sector closely not just for several years, but decades. The reason is simple. The facts and figures, distributed across so many ministries, states, and departments would have been dauntingly difficult to collate, access, and analyse without a huge team and matching resources. Certainly, it is not a task for a single individual, however, dedicated, knowledgeable, or smart to undertake on their own.
Luckily, as if in answer to the demand if not prayers of all those who are deeply concerned about Indian education, the Planning, Monitoring and Statistics Bureau of the Ministry of Education recently published their Analysis of Budgeted Expenditure on Education, 2017-18 to 2019-20. This 2022 report produced by seven officers and five support staff in the ministry must be lauded for their Herculean achievement in compiling this valuable data.
They trawled through close to 1,000 documents and books of accounts totalling over 80,000 pages to come up with their report. Usually, officials who do such yeoman service to the republic are never named and very readily forgotten. Instead, politicians and top bureaucrats, who are the face of the government, take credit for whatever policy changes or improvement their work might induce or inspire. But in this article, I would like to give some credit where it is due.
[To be continued]
The writer is an author, columnist and professor at Jawaharlal Nehru University. Views expressed are personal.
Read all the Latest News, Trending News, Cricket News, Bollywood News,
India News and Entertainment News here. Follow us on Facebook, Twitter and Instagram.
Updated Date: February 21, 2023 18:26:04 IST
TAGS:
Firstpost
Section
Plus
Tools
Network18 sites
Copyright © 2023. Firstpost – All Rights Reserved.